Rezervacija - Restaurant Čarda Stara koliba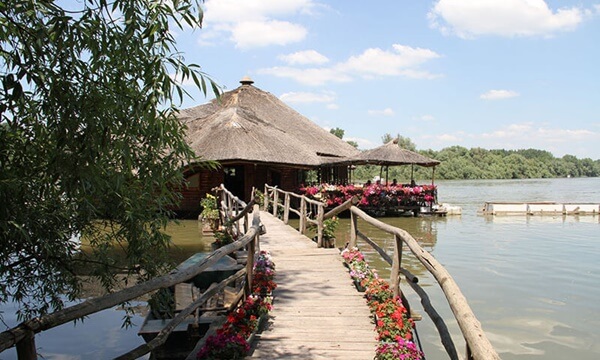 Back in 2001, another wonderful riverbank restaurant opened in Belgrade. A place where you could enjoy excellent traditional dishes in a homely atmosphere and to the sounds of tambourines. Even today, almost 20 years later, the restaurant Čarda Stara Koliba gathers lovers of good food in one of the places with the most beautiful view of the Sava and Danube, in the famous Belgrade Ušće.
As soon as you see this restaurant, you will find that its appearance is fascinating, unusual and authentic. Made out of wood, it has defied the elements for years, preserving what makes it recognizable and the reason why local guests adore it - its warmth and the taste of real home-made food. If you are also looking for a place that will provide you with a safe haven from the annoying city noise and crowds, then the Stara Koliba restaurant is the perfect place to relax and enjoy. Experienced culinary masters who have been contributing to the great reputation of this restaurant for years prepare for their guests only the highest quality specialties. The gastronomic pleasure is so incredible that it is like tasting magic on a plate.
On the diverse menu, besides fish, there are also a handful of delicious meat dishes that will awaken all your senses and make you experience an unforgettable culinary pleasure. Try salmon with olives in shrimp sauce or spicy chicken with prosciutto, but don't forget to leave room for some of the delicious desserts found on the menu of the Čarda Stara Koliba restaurant.
The Čarda Stara Koliba is an ideal place for all kinds of celebrations as it offers space for around 70 guests, friendly staff and top-notch service. For a completely hedonistic experience, experienced caterers have prepared a special surprise for all the guests of this small, but a classy restaurant. Fantastic tambourines ensembles perform some of the most beautiful and almost forgotten local songs for all the guests of the Stara Koliba restaurant.
With excellent food, professional service and music that is a true paradise for the soul, we are sure that this restaurant will become one of your favorite places in Belgrade after your very first visit.
Interior - Restaurant Čarda Stara koliba
Food - Restaurant Čarda Stara koliba
Location - Restaurant Čarda Stara koliba