Rezervacija - Restaurant Kod kapetana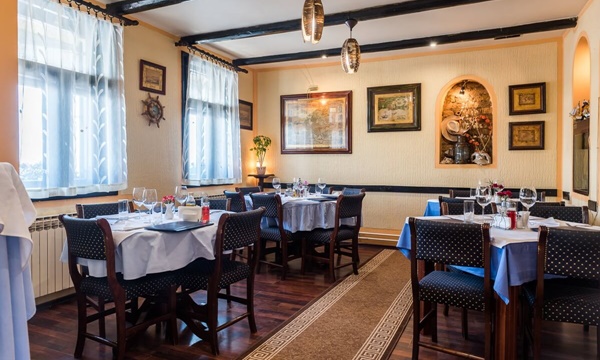 "Kod kapetana" tavern restaurant is located in the municipality of Zemun, at 43 Kej oslobodjenja. The Zemun quay is a place of many authentic bohemian taverns (kafana), so it is a perfect place for restaurant "Kod kapetana". Many people in Belgrade are acquainted with the work of the famous restaurateur Dragan Martinkovic, and know that this is the place where you can always find fresh seafood, sea and river fish specialities, and some venison delicacies.
The seafood menu includes, among other dishes, razor-shells, prawns, and fish. Our chefs recommend the specialities like stew with razor-shells and shrimps, or octopus prepared by a secret chef's recipe. Every day we serve delicious chowders (with sea or river fish).
In case you are a meat lover, "Kod kapetana" offers you steak, chicken and turkey in many different ways, grilled veal with the addition of various sauces.
A special offer of ours are the venison dishes. We serve, on a daily basis: rabbit pate, pheasant pate,or some main courses like pheasant in an orange sauce, duck in a cherry sauce, many kinds of goulash (wild boar or roe), stuffed or rolled venison.
Interior - Restaurant Kod kapetana
Location - Restaurant Kod kapetana