Rezervacija - Restaurant Dorian Gray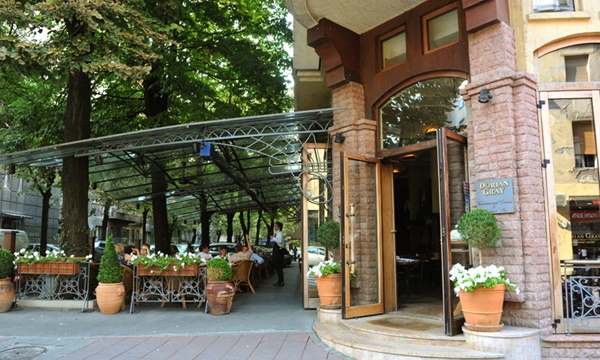 "Dorian Gray" restaurant is located in one of the most popular street of Belgrade, Strahinjica Bana street. This street is the favourite place of all those who want to be seen and it is rather famous for the beautiful cafe gardens and vivid nightlife. Restaurant "Dorian Gray" has been working successfully for a number of years and it is a personal favourite to the people who enjoy the great food and pleasant atmosphere.
The innovative heating concept, based on the principle of the infrared warming, makes the outdoor garden a warm and comfortable place even in the winter season.
Since its opening, "Dorian Gray" has set high standards concerning food choices and the food aesthetic arrangement, and continues to have a reputation of a place where international cuisine gives it a sense of broadness and authentic quality.
Lovers of fine wine often visit this restaurant, because we can praise our extremely respectable wine list.
A cosy and authentic environment, discreet menu changes, appearance of exotic cuisines, slow food menu, and many other elements will make you fall in love with this restaurant. "Dorian Gray" is considered to be one of the most prestigious restaurants in Belgrade, and always tries come up with something new, modern and authentic.
We get a positive feedback about our authenticity and quality on a daily basis from our guests, from whom some include foreign tourists and other come from our own people from Belgrade.
Interior - Restaurant Dorian Gray
Location - Restaurant Dorian Gray