Rezervacija - Restaurant Lorenzo & Kakalamba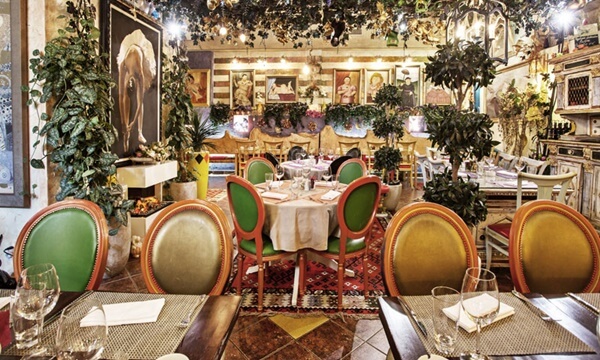 When a restaurant is conceived on the foundations of love it will definitely leave a lasting impression on all of its guests. That's exactly what you'll experience when you first step into the Lorenzo and Kakalamba Restaurant. You will see a combination of two cultures, two different ways of life at the very entrance to this restaurant, but its shining light is love for good food. This restaurant is a combination of incompatible, even though it sounds unbelievable, it is a blend of Florence and Pirot...
Restaurant Lorenzo & Kakalamba is located in Cvijićeva Street no. 110. Anyone who visits it will be able to feel its incredible energy. This completely fantastic place was created as a result of love between two people, at the time when the husband could only promise one thing to his beloved: "My dear, the only thing I can promise you is that you will never go hungry!" And thus the perfect blend of authenticity and tradition, love and culture, and love for good food were created.
There is a large number of local Serbian dishes, but also famous Italian specialties, on the menu of Lorenzo & Kakalamba Restaurant. Be sure to try the famous Pirot ironed sausage, Pirot cheese, and lamb under the bell. The restaurant offers a variety of the most beautiful traditional dishes but you do not have to rush, try as many of them as you want. If you feel like tasting more exotic dishes, you can try homemade pasta: gnocchi, tatatella or lasagna. Finally, treat yourself with a tasty Italian kiss or Panacotta with a forest fruits sauce.
The interior of this restaurant is something you have definitely never seen before. While you are dining, a beautiful white goat is eating grass above your head. In the corner of the restaurant, you will find a humorous reproduction of famous sculpture, while you feel the colorful Pirot rugs prickling your feet during the summer days of short skirts and trousers. With the sounds of perfect music, this restaurant is a great place to visit and enjoy yourself. So come and see for yourself how authentic and perfect everything actually is.
Interior - Restaurant Lorenzo & Kakalamba
Food - Restaurant Lorenzo & Kakalamba
Location - Restaurant Lorenzo & Kakalamba