Rezervacija - Restaurant Piatakia Waterfront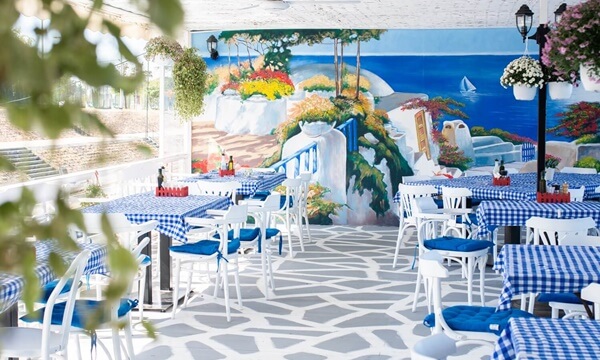 Piatakia Waterfront is a newly opened Greek restaurant, located in one of the most beautiful parts of Belgrade, on May 25th in Dorćol. This restaurant is so much more than a classic Greek restaurant. It is a place of pure hedonism, a restaurant that strives to satisfy all its guests and make their stay an incredible gastronomic experience.
As soon as you step into the Piatakia Waterfront restaurant, you will dive into a phenomenal ambiance where you will feel as if you are on some distant Greek tavern right next to the sea. A lot of effort has been put into decorating this restaurant, the combination of light blue and white color and marine details bring that positive spirit and energy.
While gazing at the beautiful Danube, enjoying the sounds of Greek music and the delicious specialties of Mediterranean cuisine, you will relax, all your senses will come to life and you will wish that this feeling lasts forever. Away from the hustle and bustle of the city, you will enjoy the most delicious Greek specialties prepared under the watchful eye of the world-renowned master of culinary craft.
While you are exploring the new and enjoying the well-known flavors of famous Greek wines, Metaxa, fish dishes, and the highest quality meats, you could easily get carried away by the atmosphere and start dancing to the sounds of famous Greek songs.
Piatakia waterfront restaurant is here for you, so all you have to do is come and become part of the amazing atmosphere while tasting the most delicious dishes and indulging in true gastronomic hedonism. That is why we invite you to visit us and let the Piadakia become your favorite hiding place with its beautiful flavors and scents, your refuge from the noise and the city hustle and bustle.
Piatakia Waterfroint restaurant is so much more than a simple Greek restaurant, it is a way of life and a small piece of Greece right here in Belgrade.
Interior - Restaurant Piatakia Waterfront
Food - Restaurant Piatakia Waterfront
Location - Restaurant Piatakia Waterfront